Success Attitude
The difference between success and failure is small… but that difference is huge.
Do you have a challenge keeping your attitude positive as you create your success? You'll find some answers here!
This website is about having a POSITIVE ATTITUDE as you change your thinking and create your personal and professional success.
Check out Janice's interview on Television One on International Self Esteem Day >>
Janice is an experienced motivational speaker for your conference and training needs, and also trains people's attitude towards success as a business trainer, holding conference workshops and in-house training workshops. She works extensively with employees' attitude at work and motivating people to boost their performances.
Janice is the author of 'Say Yes to a Positive Attitude', '200 Powertips to Keep your Attitude Positive', 'How to get what you want in life and Achieve Success' and 'Be a winner by boosting your Esteem'. Read more >>
Janice is New Zealand's representative on the International Council of Self Esteem. This is a non-profit organisation dedicated to networking and sharing research, information, programmes and strategies related to self-esteem. More information is available on the world's first national self esteem day and her book, Be a Winner by Boosting your Esteem, and also on www.self-esteem-international.org.
Janice is a Past President of National Speakers of Association ( Auckland ). Testimonials click here >>
If it's about anything to do with business, workplace attitudes & training, look under workplace attitude for more direction. If it's personal success coaching, look under personal attitude >>
Our motto is A POSITIVE Attitude IS THE RIGHT Attitude, so here's hoping you might find something here that helps you. If not, please email me with your query.
ATTITUDE and ESTEEM TRAINING
You can have that happy to be alive feeling and enjoy life, in the process fulfilling your dreams . . . all you need to do is train your attitude.
You might have heard the Confucius saying - "When the student is ready, the teacher arrives." - which means, you're on this website because you want to stop thinking negative and think positive instead. Click here to link to the Attitude Training page >>

GOAL SETTING FOR A NEW YEAR
UPCOMING
Enthusiasm is contagious and a vital key to your success.
Enthusiasm is working towards your goals....it is empowering you. Enthusiasm is about Passion...You need to be passionate about your future....this journey is a oncer. Being passionate and enthusiastic is food for your mind, body and soul. You feel is when you're achieving and on 'track' with your life. If you're in short supply at present . . . .reassess your actions.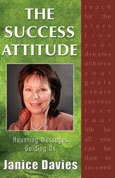 The Success Attitude - Haunting Messages Guiding Us
Everyone's life if a continuous journey of highs and lows….in search of happiness, love, fulfillment and success. The Success Attitude – Haunting Messages Guiding Us, is Janice's journey along with Hindsight Insights which provide an opportunity for the readers to delve one step further into personal their journey and development. More >
RELEASED in the USA - NEW
| | |
| --- | --- |
| USD $20.95 | |